MBAs working with Charity at the Global Leaders Event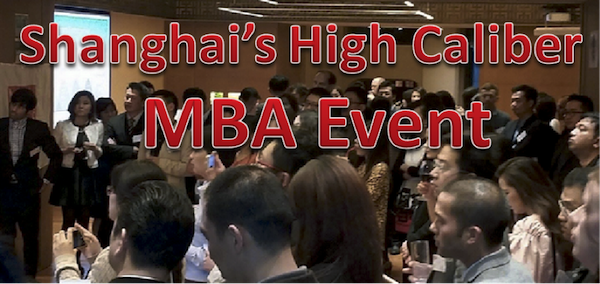 You heard it right, world-wide MBAs gather at the stylish Andaz Hotel in Xintianti on September 26th for the Global Leaders Connection – the 5th in the Tomorrow's Leaders Series. Known among domestic, as well as, MBA alumni from overseas, as Shanghai's high caliber networking event. They have chosen a charity to connect MBAs with at a very succinctly run event usually reserved for "for profit" top tier multinationals. Not just any charity but WWF the World Wide Fund for Nature – The world's largest conservation fund.
Why, you ask? We asked the CEO of catalyst4mbas.com that holds the event that same question.
"It blends very much with what MBAs want to do and also something that is crucially important for China. MBAs are usually very driven people that want to make a change. World Wide Fund for Nature allows them to do that and be a part of volunteering for global initiatives and even having a chance to work on initiatives to clean up water systems in China and make a real difference for their community. Our job at catalyst4mbas.com is to make that connection happen between great people and great organizations and WWF certainly does qualify"
-catalyst4mbas.com CEO, Damon Mackey
At a previous Tomorrow's Leaders event Martin Jansen, Region Director of Coca-Cola had spoke about how Coca-Cola is working to clean up waterways in China. MBAs took a strong interest in this and the catalyst organization decided they wanted to do something more to promote MBAs getting involved in charity type work.
EMBAs and alumni from Ivy League schools that attend the catalyst events are picky about which organizations they would work for and all MBAs want to do something that makes their resume stand out. Volunteering at a world famous charity and building multi-cultural work experience on global initiatives can make that difference.
When asked about How the events attract top-tier organizations and MBAs from the top programs, Jake Xiang the China Representative of catalyst4mbas.com said "We work with the top schools and top organizations bringing them both very high value events. Who we attract is important but also the content of the event, for example, this September 26th we are focused on "Purposeful Leadership" by having the Managing Partner of A.T. Kearney and the Regional Director of Hays, China speaking from their hard earned experience on leadership plus their insight from working with the top organizations in China today. The networking activity itself is especially designed by "Global Leadership Partners Asia" to get people to know each other more deeply and start building meaningful relationships around the topic of purposeful leadership, instead of just exchanging business cards
The events in the past have brought Kenneth Jarrett, Chairman of APCO and 2012 Chairman of the American Chamber of Commerce, Martin Jansen, Region Director of Coca-Cola Bottling Investments Group, China-Singapore-Malaysia, John Ho, CSO of Geo Media and previous VP of Groupon; Overseas,CEO of General Electric and the Head of Linkedin and the CEO of Accenture to speak and consecutively brings 200–300 MBA attendees.
This same organization that brings you the event on 9/26 created Japan's largest MBA Career Forum for four years in a row and now holds high caliber networking events in both Shanghai, China and Tokyo Japan.
There is a big difference we are seeing in networking events as the market has been saturated with too many events. People demand more from an event and this organization is one that stays on the forefront of having value packed events.